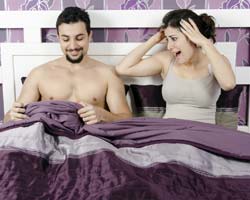 A Las Vegas prostitute who claims to be a ' penis expert' has spoken out to give men the truth about what makes a 'good' penis. Blithe Velour, who is employed by a legal brothel called Sheri's Ranch, decided it was time to squash those misconceptions about a man's size.
The sex worker debunked common myths on her blog, with regular viewing and handling, Blithe claims she is more equipped to judge than most, having seen penises in various sizes and shapes. She blames the constant penis size studies and media reports for men becoming increasingly more obsessed with the size of their genitals.
Here is what the penis expert had to says:
Myth 1: There is no such thing as an 'ideal' penis size
I've seen a lot of c****. They come in all shapes, lengths, widths, and colours. Some bend upwards, some downwards, some curve to the side. Some are almost the size of my forearm, some the size of my thumb. I've seen penises with a sharp bend like a water faucet, and penises shaped like a mushroom, with a large head on a smaller shaft.
While some online resources will try to trick people into believing that there is such a thing as an "ideal penis," I'm here to tell you that as long as your penis is healthy, it's ideal for sex and is capable of pleasing a woman.
Myth 2: The size does matter when it comes to pleasing a woman
Again, this is false. Having a thick or long c*** doesn't mean you're automatically great at sex.
In my experience what matters most is reading your partner's body, being sympathetic to her unique needs, and paying attention to what she responds favourably to.
No matter what the size, if you apply pressure in the right areas or use the right rhythm it's going to make her feel good. Also, you can and should use more than just your penis to please a woman.
A lot of research has shown that many women can't achieve orgasm through vaginal penetration alone.
That's why it's an absolute must to use your mouth and hands during sex, as well as experimenting with toys (a favorite of mine.)
To put it simply: when it comes to sexual satisfaction, a big penis is a poor substitute for a compassionate and audacious lover.
Myth 3: Women gossip about size
When women do kiss and tell, I've found that the focus is almost always on a man's performance, and not on his penis size at all. We are much more interested in hearing about the experience as a whole.
Talking about what tricks or toys were used is a lot more interesting than discussing size.
Honestly, when another woman describes good sex to me she'll very rarely mention the size or appearance of her partner's penis.
Since we're not all that concerned about a guy's penis size, maybe men shouldn't be as concerned as they are about it either.