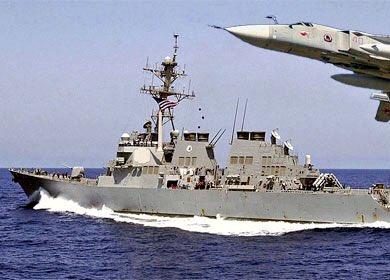 Russia has accused United States of Intimidation when a US naval destroyer sailed close to Russia's border in the Baltics with a warning that the Russian military would respond with 'all necessary measures' to any future incidents.
After a meeting between Russia and NATO envoys Moscow's ambassador to NATO said the April 11 maritime incident showed there could be no improvement in ties until the US-led alliance withdrew from Russia's borders.
'This is about attempts to exercise military pressure on Russia,' the envoy, Alexander Grushko, said. 'We will take all necessary measures, precautions, to compensate for these attempts to use military force.'
US Ambassador to NATO Douglas Lute pressed Russia about the incident, warning it had been dangerous. The United States has said the guided missile destroyer USS Cook was on routine business near Poland when it was harassed by Russian jets.
'We were in international waters,' a NATO diplomat reported Lute as telling Grushko during the NATO-Russia council meeting. Last week Secretary of State John Kerry said the Navy ship could have opened fire on the Russian military jets that buzzed around it.
Kerry made the statement in remarks to CNN Espanol in Miami and condemned Russia's actions. He said that 'under the rules of engagement (it) could have been a shoot-down'.